Transporteur+ guide
Electric from school to home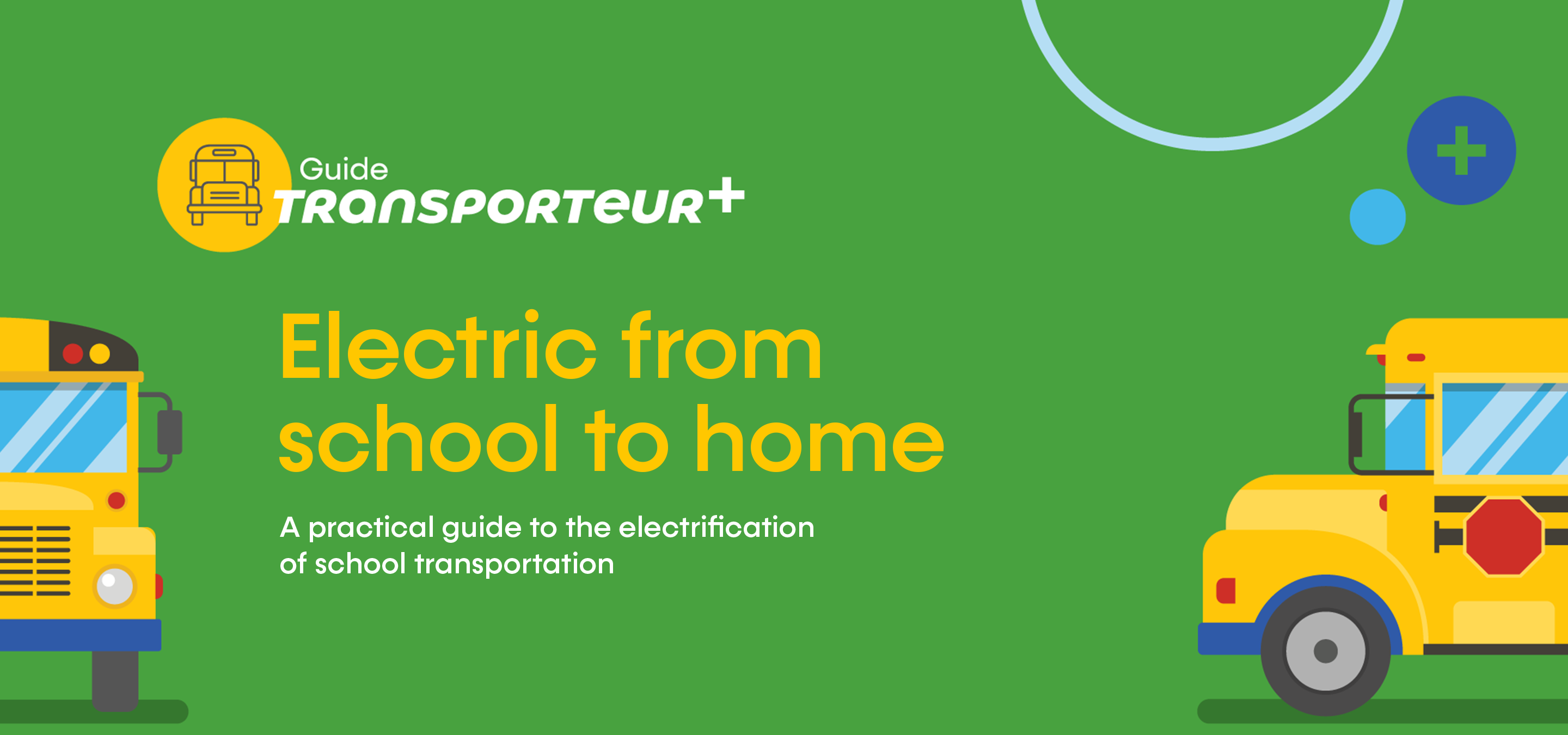 Propulsion Québec offers the Transporteur+ guide, which aims to provide easy and direct access to resources to clarify the steps, issues, conditions and facilitating measures for a successful transition to electrification.
Propulsion Québec would like to thank all the experts who were involved in developing this guide.
THE REALIZATION OF THIS GUIDE WAS MADE POSSIBLE THANKS TO THE FINANCIAL SUPPORT OF: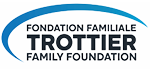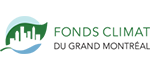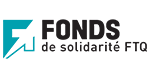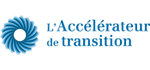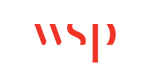 A technical guide to the electrification of Québec school buses for a successful transition
Electric buses are an important solution to transforming school transportation to a more sustainable, efficient and resilient alternative over the long term. While this technology has many similarities to standard diesel buses, it is important to understand what makes it unique to better prepare for its arrival.
This technical guide presents a review of electric bus technologies and charging systems, future developments, and key steps to consider for successful deployment. It aims to demystify the work that needs to be planned for the transition, identify the operational requirements of the technology and provide solutions to meet them, as well as propose concrete courses of action for carriers to address this technological shift by 2025.
As funding and subsidy opportunities multiply, now is a good time to begin the transition process. This guide is mainly intended for small and medium-sized school bus operators (up to 50 buses)who will find the necessary information on the electrification of school buses and the first steps to accomplish their energy transition.
According to a recent survey, close to 535,000 schoolchildren travel by school bus in the morning and evening in Quebec, which represents nearly 60% of the students enrolled in school. When it comes to electrifying school transportation, this figure shows the magnitude of the impact that this transition will have on our society and the number of Quebec families who will benefit from it.
In presenting its Plan for a Green Economy, which aims to convert 65% of school buses to zero-emission vehicles by 2030, the Quebec government is putting the emphasis on electrification. Also, several funding programs have been put in place to support the progressive adoption of the various technologies involved.
To reach the government's objectives, Quebec's school bus operators must act in unison. This transition presents a tremendous opportunity for Quebec carriers to operate zero-emission vehicles and to pave the way for other operators to follow in the footsteps of more environmentally friendly technologies.
We believe that the key to successful electrification projects lies in a clear understanding of the challenges and a well-defined plan. The purpose of this guide is to present all the necessary steps to facilitate the electric transition and ensure that the transition process is optimized.
According to the Ministry of Transportation, the GHG emission reduction potential of an electric school bus is 23 tonnes of CO2 annually, the equivalent of five cars using 2,000 L of gasoline per year.
KEY STEPS FOR CONVERTING YOUR FLEET TO ELECTRIC POWER
Planning

Planning your electrification project is the basis for a successful transition. At this stage, you must first put on paper your vision for the short, medium and long term. How many buses must be replaced each year? What are my daily autonomy requirements? What will be my future electrical needs? These questions help set the framework for the transition plan. The planning phase can last up to one year to best prevent complications related to future installations.

Selecting suppliers

When discussing an electric bus adoption project, one must consider the entire system: the vehicle, its charging infrastructure, and the operating and scheduling software. This guide provides questions to ask to help select bus or service providers. Key elements surrounding battery capacity and life, availability of skilled labor for heavy repairs, and procurement lead times are raised in the list of questions.

Pilot project and phased integration

At this stage, the financial package must be completed. The implementation of a pilot project allows teams to test and push the limits of the technology to understand its constraints, to put in place new organizational processes while training its employees, and to adapt its adoption strategy to local particularities (distances, weather conditions, types of roads, etc.). After six to ten months of pilot implementation, it is recommended that a feedback analysis be conducted to correct any problems before the next electric buses are introduced. The pilot project should last a minimum of one year to collect data on all seasonal variations.

Adapting buildings and infrastructure to accommodate electric school buses

In order to avoid having the electric buses remain at a standstill while the work is being carried out, it is important to plan the schedule so that the infrastructure is ready to receive the buses before they are delivered. It is estimated that this stage takes between six months and a year and a half, depending on the complexity of the work to be done, which can vary greatly from one carrier to another.

Start of operations

The infrastructure has been installed and the electric buses have been delivered: all that remains is to test them on the usual routes. There are no standardized tests in the industry yet to verify the performance of the buses. It is therefore recommended that as many tests as necessary be conducted to allow drivers to become accustomed to the new buses and their charging systems. It is also at this stage that crews will become familiar with the charging management and real-time data visualization software.
Services offered and financing
Government grants are available to cover almost one-third of the cost of purchasing electric buses, and 75% of the cost of installing the charging stations and the studies required for their implementation. The Infrastructure Bank of Canada, in partnership with the FTA, offers financing at a very low interest rate that is only repaid if savings are realized with the implementation of electric buses.
The table below provides a summary of the funding options currently available and presented in Section 4 of the guide, from page 30 to page 33.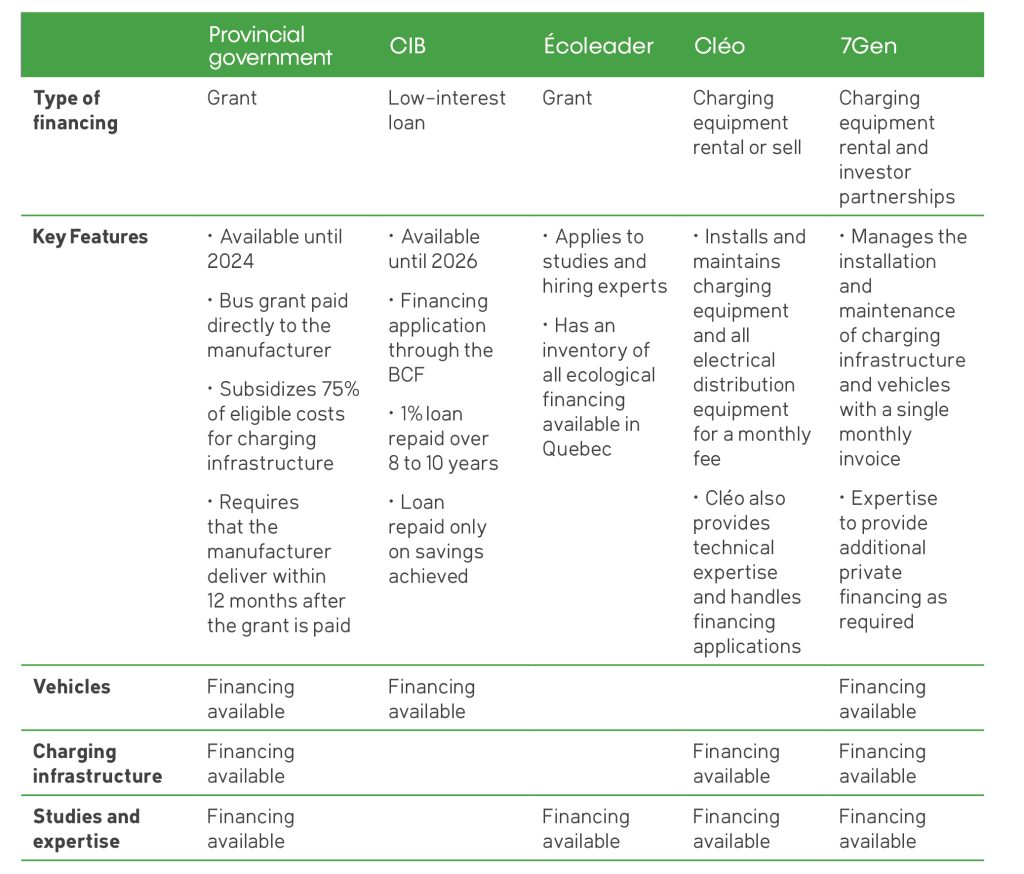 The table below provides a summary of the options discussed in this section, their benefits and risks to be considered.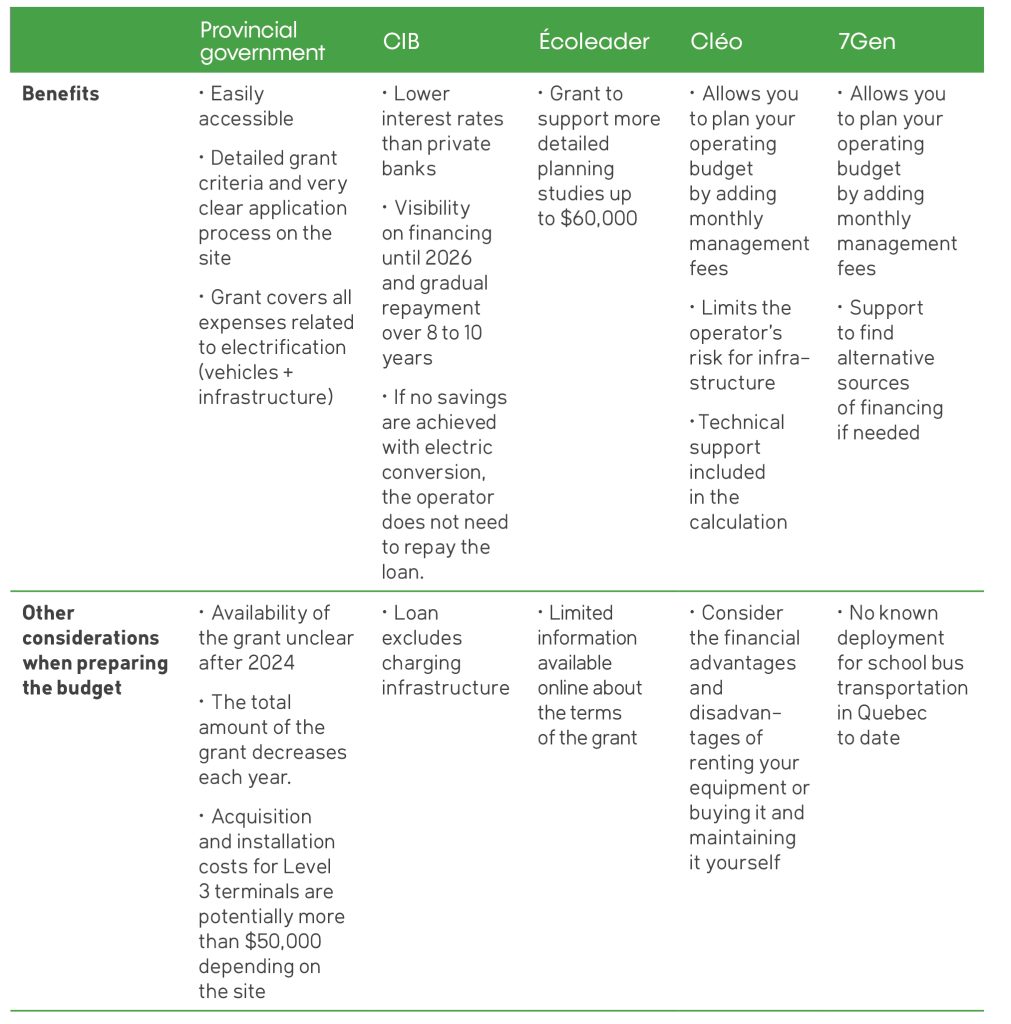 When it comes to electrification, vehicles are just as important as charging infrastructure, operations management software and the conversion of buildings and maintenance facilities.
The bottom line is that you are not alone. All carriers in Quebec, large and small, have the opportunity to set an example throughout Quebec, in the regions, to families and to future generations. In this sense, Propulsion Québec wishes to guide the ecosystem to help it shine and accelerate the energy transition in transportation. We hope that this guide has been useful in your reflections and will help you plan your next steps in electrification.

Geneviève Latour
Vice-President, Communications, Strategic Partnerships and Community Relations
Continue reading on the subject